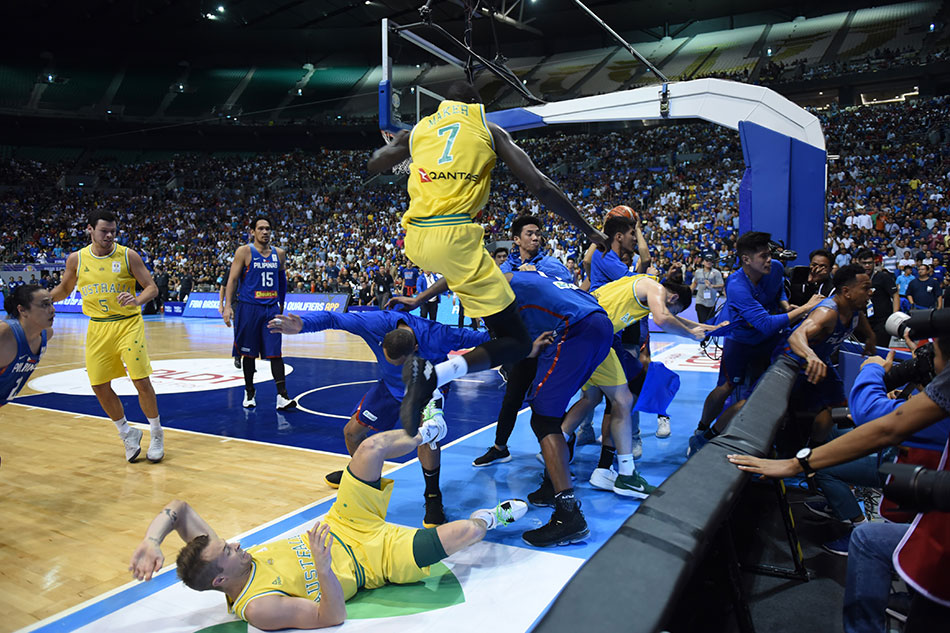 Commotion
Bulacan - It was started after Roger "RR" Pogoy hardly drived to the center then suddenly commotion sparked between Pogoy and Goulding. Another Australian player saw it and immediately hit Pogoy on his face with the arm. Then more heartbreaking scenes happened on different side of the court between Gilas Players on and off the bench against some Australian players. Commotion was only stopped when the security fully controlled the atmosphere.
Samahang Basketbol ng Pilipinas (SBP) President Al Panlilio appealed for calm in the wake of the melee.
"Hindi po kanais-nais ang nangyari," said Panlilio, some 30 minutes after the brawl occurred. "I just want to appeal to everybody to please settle down. We didn't want what happened to happen."
"We are hosting this game, and this is basketball. We will wait for the referees for their decision, but please respect the game, and may our visitors feel safe in the arena," he added.
"Let's just enjoy the game, everybody calm down, and respect the decision that will come out from the review of the refs."
FIBA Coach Decision after the incident.
After the incident, FIBA coaches decided to eject numerous players from both team plus two (2) free throws on the side of Australia.
From the Philippines, out of the tweleve (12) players from Gilas Pilipinas 3/4 of the players was ejected and only three (3) players were remained including Gabe Norwood, Jun Mar Fajardo and Base Amer.
Four (4) Australian players were also ejected.
The game continued on a 5 versus 3 players. But the remaining Gilas Pilinas started to collect fouls until they graduated and only Baser Amer left which obviously incapable to play that spark to end the game finally.
The game ends at the score of 89-53 in favor of Australia. Australia remains the top seed on Group B followed by Philippines and then Japan. Chinese Taipei was eliminated. Teams will now advance to the next round.
Note: Image and Video are credited and courtesy of the respected owners.